Here is a mesmerising video of birds murmuring over Lackagh in Co. Galway, almost two years ago today. Close your eyes and listen to the sounds you hear  – the swish of the birds, the air, a passing tractor, a dog barking. These noises combine to make our soundscapes. What is your soundscape?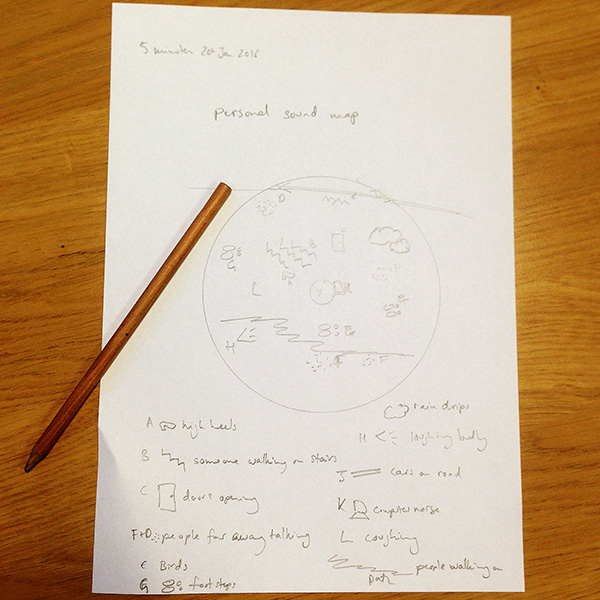 Your Challenge: Map the sounds you hear today
Resources to help
How to make a sound map:
a) Find a comfortable spot to sit.
b) Mark an "X " in the centre of a piece of paper which contains a circle about the same size as a CD . This shows your relative location on the map.
c) Close your eyes and listen for at least one minute. Listen for sounds from animals, birds, people, machinery  and other human activities.
d) Keep listening, but now draw pictures or symbols on the map representing all the sounds you hear, and where they are coming from. It is also possible to reflect the relative distances of the sounds by using the periphery of the page as a scale. Sounds that seem close should be near the 'X', whereas distant sounds should be represented on the outside of the page.
Source: http://www.rgs.org/OurWork/Schools/Fieldwork+and+local+learning/Fieldwork+techniques/Fieldwork+technology/Soundscapes.htm
Additional Resources:
Don't like this hand drawn approach? Keep it digital and draw your map or use a mind mapping tool (MindMeister or Simpleminds)
Want to participate?
Share your response with us online
Post your response to today's daily prompt to @campuscreate on Twitter, Instagram, Facebook, Vine, or Google+ and be sure to include the hashtag #soundspark
Not on social media?
Email or Drop it to us (password=mycreate), and we'll publish it for you